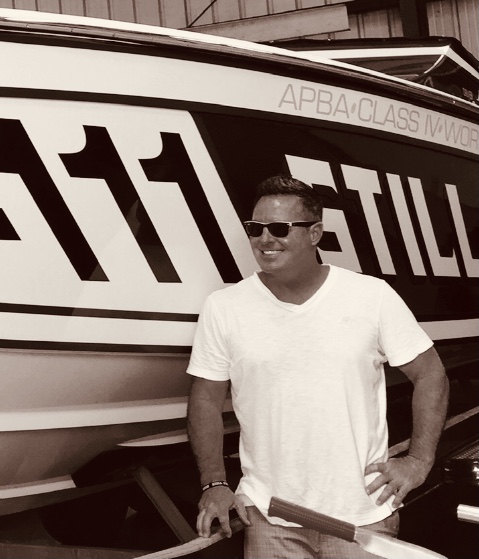 Scott McCormick ingat ketika dia berusia 15 tahun mengemudi di pabrik Velocity Powerboats bersama ibunya untuk pertama kalinya melihat perahu motor di luar gedung. McCormick memaksa ibunya memutar mobil agar dia bisa berkunjung.
Bertahun-tahun kemudian, McCormick sekarang memiliki Velocity Powerboats dan telah merancang perubahan yang luar biasa dari merek yang terhormat. Ini adalah kisah remaja yang mulai bekerja di Sanford, Fla., pembuat kapal yang mencuci kapal dan kembali untuk membeli dan menyelamatkan perusahaan dari tempat pembuangan sampah merek kapal ikonik.
Selalu optimis dan terobsesi dengan perhatian terhadap detail, McCormick, 51, senang komunitas berperahu telah memperhatikan.
"Itu terjadi begitu cepat, dan saya ingin berterima kasih kepada media sosial untuk itu, tetapi juga semua pemilik Velocity yang bersemangat dan orang-orang di industri ini," kata McCormick. "Mereka telah melihat perbedaan yang ada di luar sana."
McCormick membeli aset tersebut ke Velocity Powerboat pada tahun 2018 dan mulai memproduksi kapal pada Agustus 2019. Sebelum produksi dimulai, McCormick meminta teknisi datang dan memindai semua cetakan, membuat jadwal laminasi baru, dan sertifikasi ISO proses produksi.
Tujuannya tidak hanya untuk memperkuat lambung tetapi juga untuk menanamkan kepercayaan kepada konsumen bahwa Velocity membuat kapal yang kuat dengan kualitas dan hasil akhir yang terbaik.
"Produk yang kami bangun sekarang sangat berbeda dari produk yang dibuat sebelumnya," kata McCormick. "Hampir setiap kapal yang kami tawarkan (sekarang) adalah model baru. Kami telah melakukan retooling pada dasarnya setiap model yang ada dan kemudian kami juga memiliki tiga model baru yang belum pernah ada sebelumnya."
Berinvestasi dalam cetakan baru memungkinkan Velocity untuk menawarkan versi sterndrive atau tempel dari modelnya.
Dalam konfigurasi ulang perahu sport untuk tenaga tempel, Velocity menciptakan kokpit yang lebih besar dengan mendorong sekat karena tidak ada buritan. Ruang ekstra dapat digunakan untuk pendingin, loker fender atau penyimpanan tambahan, kata McCormick.
Selama konstruksi, katakanlah 290 SC, Velocity memasukkan jig untuk melepaskan bagian tengah platform renang dan menggabungkan tangga renang dan langkah renang lebar di setiap sisi tempel. Selain itu, Velocity menggunakan pembaruan cetakan untuk mengubah stringer dan sekat serta menyempurnakan geladak dan jadwal laminasi.
"Ini masih kosmetik hampir terlihat seperti perahu yang sama, kecuali Anda memiliki sepasang tempel yang menggantung di belakang," kata McCormick. "Kami telah mengambil konsep yang sama dan memindahkannya ke kapal penangkap ikan."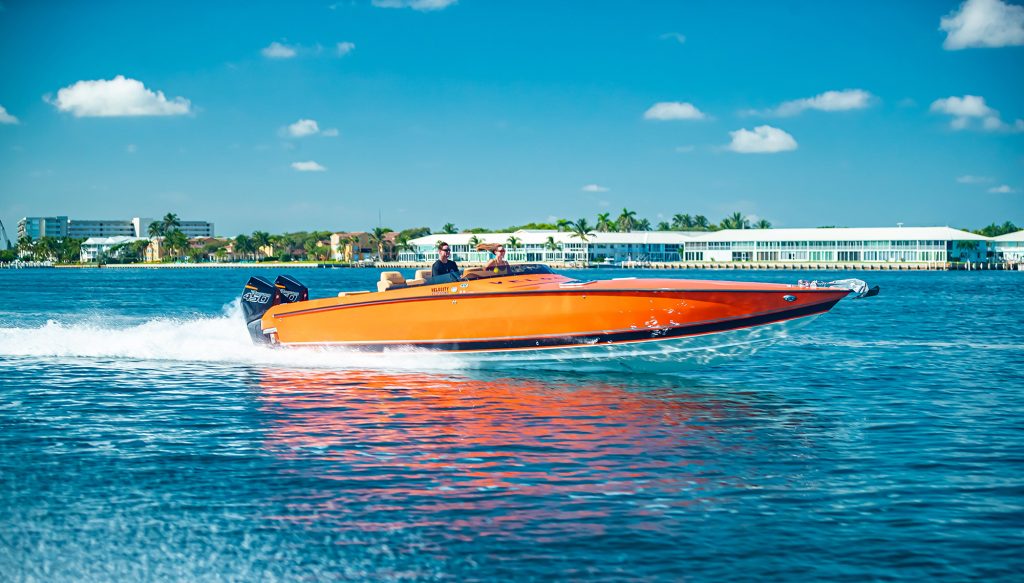 Jajaran perahu sport Velocity termasuk 22 Punisher baru untuk bergabung dengan 230 SC, 260VR, 290 SC, VR1, 322 SC, 40 Raptor, 420 SC dan 430VRX. Di sisi perahu ikan, Velocity memiliki 220CC, 262CC, 330CC dan 430CC. Velocity juga menawarkan dua kapal teluk—Teluk 220 dan Teluk 260. Perusahaan sedang mengerjakan peralatan dek untuk konsol tengah 40 kaki dengan mesin quad, katanya.
Dengan menawarkan perahu dari 22 hingga 41 kaki, pembangun Florida dapat menarik berbagai pembeli dari pemilik perahu motor pertama kali hingga pelaut kinerja berpengalaman. 290 SC adalah penjual terpanas perusahaan, kata McCormick, berlari 105 mph dengan kembar Mercury Racing 400R outboards. "Kami punya hal itu backlog, semua orang menginginkan perahu itu," katanya.
McCormick mengatakan dia mengambil perahu baru yang berjalan mendekati 100 mph ke Danau Merkurius X dan menghabiskan satu atau dua hari menelepon di perahu untuk pelanggan. Setiap perahu baru yang keluar dari pabrik, McCormick membiarkannya terendam air di belakang rumahnya untuk memastikan tidak ada kebocoran air.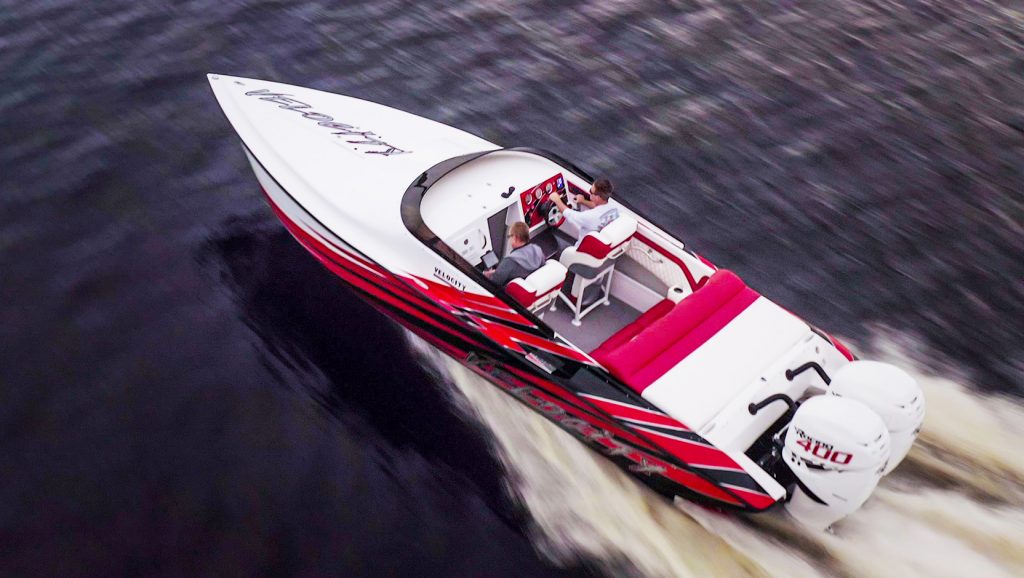 McCormick dan istrinya Maria akan melakukan pembobolan selama empat jam dengan Maria yang mengemudi.
"Saya akan mengeluarkan clipboard dan saya akan menuliskan semua yang menurut saya perlu diperhatikan," katanya. "Saya melakukan itu di setiap perahu, dan saya tidak hanya pergi ke Danau X dan memasangnya di sisi pertunjukan, tetapi saya merangkak melalui setiap perahu sementara istri saya melakukan pembobolan empat jam."
McCormick mengatakan bahwa dia memanfaatkan hari-harinya untuk memasang tali di lepas pantai, di mana setiap kepala sekrup harus berada di utara-selatan-timur-barat. Dia menemukan lebih sedikit item yang perlu diperhatikan, memuji timnya karena terus meningkatkan kualitas pekerjaannya.
Puas dengan pekerjaan perusahaan, McCormick ingin memamerkan Velocity Boats kepada penonton pertunjukan perahu nasional di Lake of the Ozarks Shootout musim panas ini.
"Kami pergi ke Danau Ozarks (Shootout) untuk pertama kalinya dalam 20 tahun, kami pergi ke sana dan menetapkan kapal Bravo bermesin tunggal tercepat dan kapal Bravo bermesin ganda tercepat, dan mendapatkan penghargaan Top Gun," McCormick dikatakan.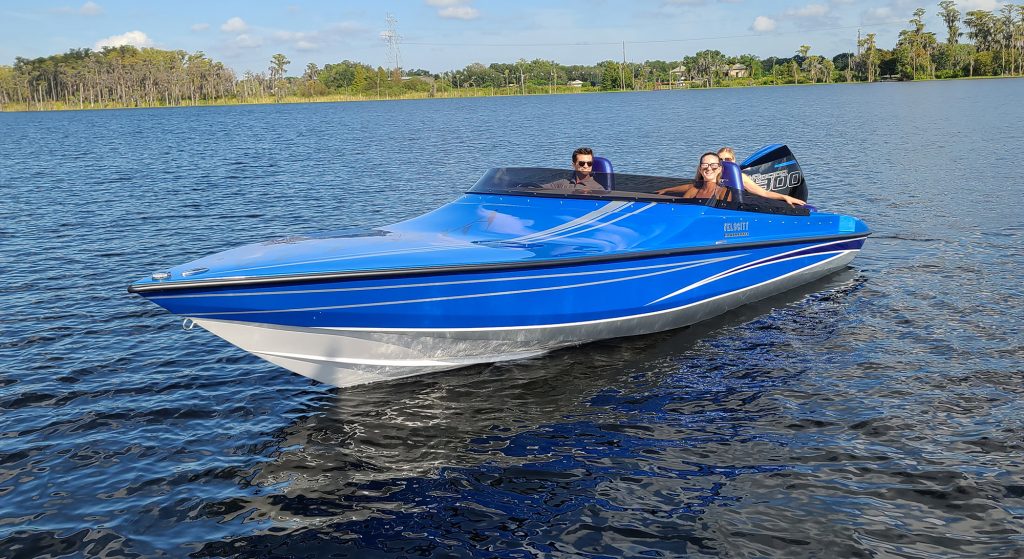 Penjualan Velocity Powerboats adalah tiga kali lipat dari proyeksi McCormick, dan perusahaan bekerja melalui backlog besar berkat produk baru dan booming berperahu.
"Saya cukup yakin bahwa lineup yang kita miliki sekarang akan menjadi lineup untuk beberapa tahun ke depan," kata McCormick. "Kami telah melakukan semua perubahan yang ingin kami lakukan. Garis, pelapis, nomor kinerja, konversi tempel. Akan ada sedikit perubahan kecil hanya untuk beralih dari model tahun ke model tahun, tapi saya suka seluruh jajaran yang kami miliki saat ini."
perahu motor kecepatan,
877-354-1159,